I'm a fan of beaches in general; always have been. Now that I'm able to walk to a beautiful Florida beach right in my own neighborhood, I still have to pinch myself that it's all worked out this way, even after eleven years of calling 'the beach' my home.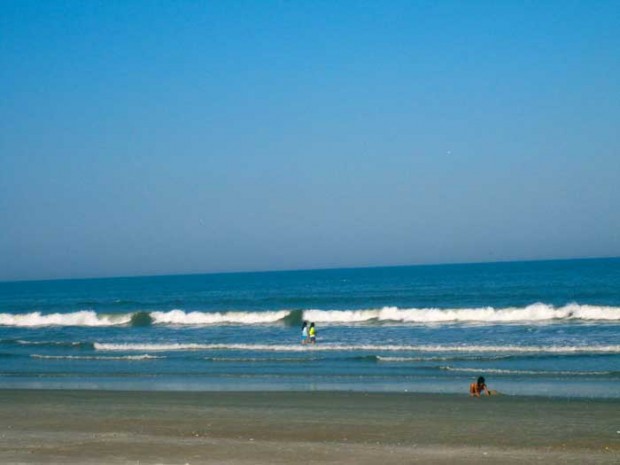 For years my sister has made her life in California and I loved visiting her there. I loved the coast, and the mountains, and the fact that she lived in such a gorgeous geographical location with a lovely climate. I'd truly hate to leave there when my time was up, to return to my home in the often-dreary midwest; at least for so many months of the year.
Now when I come home from any vacation, I don't feel that pang of longing to live somewhere else.  I do live somewhere else. I live in Florida, of all places, and right at the coastline, too!  Oh, how fortunate I feel about that.  I love our climate – I've adjusted to the summer weather – and the winters here are sublime.  I love being able to come home to this: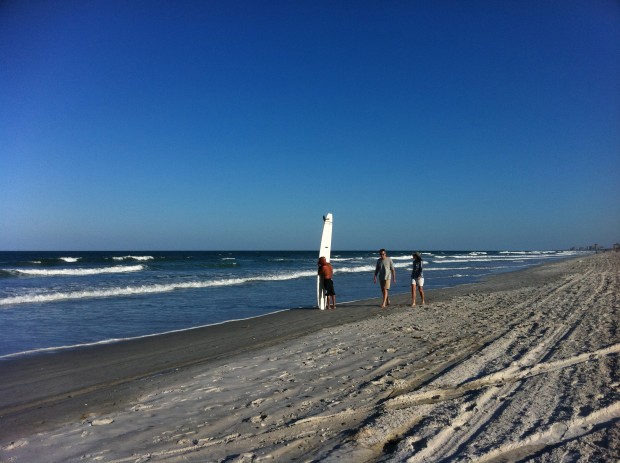 To walk from my house, to the sand, with a chair, towel, book, and drink, and spend a couple of hours.  Like I did, yesterday.  It was a picture-perfect day.  To make my point, behold this:
Neighborhood surfer, coming in from a short, late afternoon session.
Yes, that's a jellyfish in the foreground, left picture.  No worries.
Surfing is a sport that people can and do enjoy at all ages.  Living near the beach, if the waves are good, you can dash in for a bit, or longer.  There's a tide clock at the center of town, but surfers follow the rhythms of the tide and swell in their own ways.  The clock is charming; an old-fashioned lamppost style that stands in the middle of the 'five-way stop' that residents of Atlantic Beach all know well.
On this Florida beach, unlike the beaches in Malibu, for instance, we only have to wear wet suits in the winter time.  They are still wearing wet suits in the Pacific; in Florida, our waters warm up early and stay warm for several months.
This was an ideal beach weekend, and there'll be many more to follow.  The ocean air smells like home, now, and even when I was on the west coast, the salty beach air evoked a visceral home sort of feeling in me.
It seems that everyone was on our Florida beach this weekend, and I'm guessing the scene was similar all around our state.   Even at 6:00pm, I saw people still arriving, not wanting the last of the weekend to slip away,  while some were beginning to depart. Judging from these photos, though, it looks like a lot of people were having a good time, and weren't planning to leave anytime soon!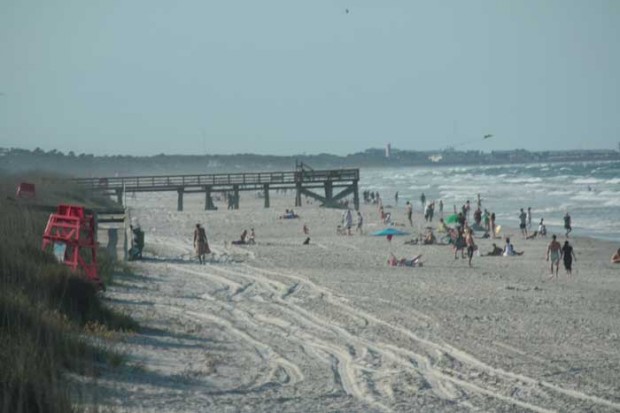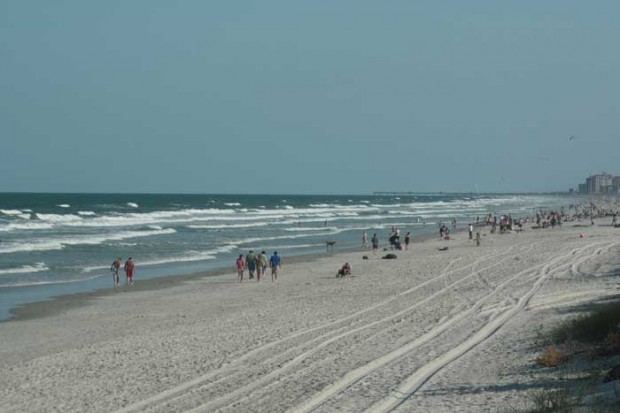 I didn't mean to eavesdrop.  I had the telephoto on and just pointed outward to sea.  Imagine my grin when I brought this sweet image up on the laptop.  How could I leave this one out?  It was the green/blue water that drew my lens.  It was the surprise between the waves that conspired to make this one a keeper.