The spring run at Blue Spring, in Volusia County.
Beautiful!
The big day was Sunday, April 10!  By officially open that means when I go underwater in a spring.  As it happened, I was passing by Blue Spring State Park, and was determined not to miss my chance to see it, photograph it,  and have a full body immersion.  It was a 93 degree April scorcher, after all.
So far, my heart belongs to Blue Springs in Gilchrist County, near the town of High Springs, and so my springs-lovin' friend refers to other springs also named Blue Springs as 'Volusia Blue' or 'Lafayette Blue' or 'Madison Blue' . There's a small spring in Levy County also called Blue Springs, and I've actually visited that one.  Nice, but… it's not my Blue Springs.  I've heard great things about the other Blues, so I'm keeping an open mind. Blue Spring State Park in Volusia County is well known for being the manatee migration site, when the winter waters of the St. John's River become too cold for their liking.  They'll leave the chilly river, and come into the spring, where the water temps are 72 degrees year round.  They hang out here for a couple of months, until the river warms again, and off they go.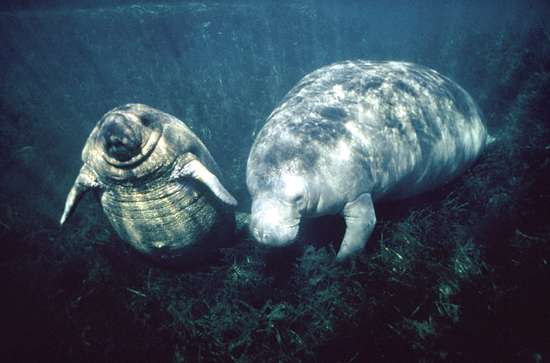 (Photo courtesy of Florida State Park website – Blue Spring Park)
Schools send busloads of children on field trips during the winter months for manatee viewing. It's April, so  the manatees have departed and now the humans  flock to Blue Spring.  There's nothing like a cool spring on a 93 degree day. Last Sunday, there was already a line of cars waiting to enter the park by the time we arrived, later in the afternoon.  Note to self: avoid weekends if possible, and arrive early in the day. Still, this park can handle a crowd, without it feeling too crowded.  That's a plus!  Because we'd arrived later, and I hadn't brought along my usual snorkeling gear, it was a limited experience.  You don't have to be a snorkeler to enjoy the springs.  Most people – kids and adults – are content to splash and swim about the water, perhaps renting (or bringing their own) tubes for a short float from the 'put in' point to the 'exit' point of the spring run.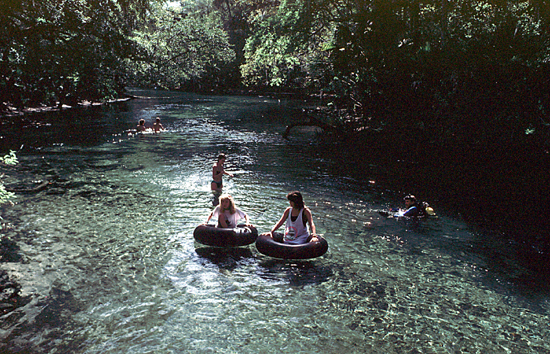 (Photo courtesy of Florida State Park website – Blue Spring Park)
We rented a tube and enjoyed a nice float along the spring run; about a 15 minute ride.  After that we swam in the spring run, going with the current, to the ending point.  The spring run is shallow; adults can stop and stand up in the water.  Swimming against the current is doable but fins are definitely recommended.  Even with fins, it's a good swim to reach the spring head.  I love swimming against the current in other spring runs, but not so, this day.  I'd come woefully unprepared; it was a spontaneous visit, but very fun. I never pass up a chance to see a new spring!  Still, I'd have wanted my mask or at least, goggles, so I could view the spectacle of the spring vent and other tiny fissures where the water bubbles forth from the aquifer. So, I didn't make it to the spring head from the water.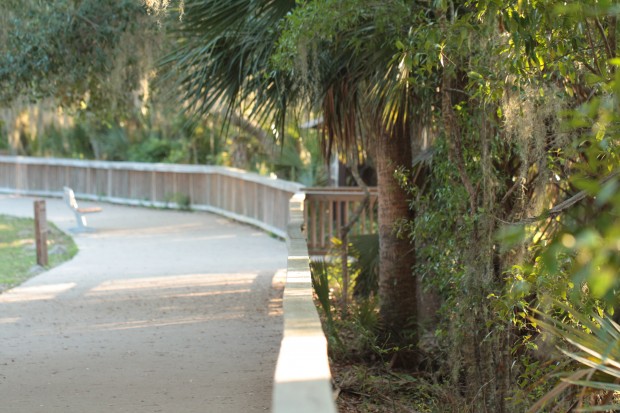 Instead, I walked along the lovely, shaded boardwalk; a 1/3 mile through the shaded hammock of hardwood trees, from the  St. John's River, along the spring run, and ending at the viewing platform of Blue Spring itself. Oh, how I'd have have loved to be in that water, where fewer people were swimming.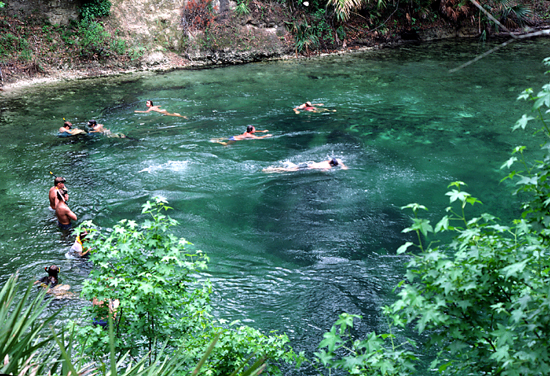 (photo courtesy of Florida State Parks website – Blue Spring State Park)
It's a large spring surrounded by trees, naturally maintained.  I'm not so fond of retaining walls built by  state or county parks that create a pool-like effect around a spring, but I can appreciate its purpose.  This enables visitors to perch along the edge and dangle their feet in the cooling waters. (Not everyone wants the full immersion experience!)  Or, they may sit, partially in the water,  on the shelf that's built below the rim. Just like a nice swimming pool.  They're lovely,  but it's the rustic springs I'm drawn to…where the aquatic life flourishes and fish are plentiful. Retaining walls tend to restrict the growth of flora, and therefore, there's fewer fish swimming about.  I'd prefer to look at fish and plant life underwater, rather than people jostling about!  Still,  there are springs for everyone's preferences here in Florida.
So, no, I did not have the camera on hand to photograph this place.  Due to time constraints I had to make a choice, so  I left it in the car, and dove into the water.  Later, I took a few macro shots while my daughter waited in the car for me to finish, so that curtailed my photography fun. I snapped a few macro shots of the Spanish moss, and continued on the long drive home.  It had been a busy weekend already.