It's been a long school year and it's nearly over. I'm calling it over though there are some (er, one) in this house who needs to study for finals (and stop watching the Cartoon Network).
In the meantime, I've been to the University of Maryland and back, escorting our state's winning  Odyssey of the Mind team to the World Finals.  It was our first year as a team and we won first place at Regionals, so we went on to the State Competition in Orlando.  There, the team knocked it out of the park very early on competition day,  and I started to think they had a chance to make it Worlds (well, everyone calls it Worlds, so I will too).  We waited for the entire day's competition to conclude and for that evening's awards ceremony with my heart pounding.  I'll be honest:  I had mixed feelings about going on to Worlds.  Worlds is a BIG time deal and would require so much more of my time, money, energy and emotion, when I was really quite ready for it to be over – for so many reasons.  I co-coached this team to do something meaningful for one of my children, who'd never expressed any interest in anything extra-curricular,  and it became a school-year-long thing that has a story of its own – there were so many ups and downs and issues and triumphs and tensions… You know, the usual.  Except I don't usually get involved in such matters at school.  Well, this year, I decided I would.
The day of state competition wound down and all the competing teams from across Florida gathered in the arena on the campus of University of Central Florida for the closing awards ceremony.  Emotion ran high in our section, as honorable mentions were given and we were not among them. We all knew the kids had nailed the public part of the competition, but there is also a private challenge (Spontaneous problem-solving)  that's not open for public viewing – just the team and the judges. The scoring system and the challenges are quite complex.  Finally, it was time to announce the second, and first place winners.  You know, they build anticipation by announcing the honorable mention winners, for each of the five problem categories, in four divisions.  Then they start over, and announce the second and first place winners. (It's a long ceremony!)  Finally,  second place  winner in our problem category and division was announced, and it was not us.  My heart was in my throat and the entire team and coaches were poised on the edges of their seats.  Finally, it happened.  "… in first place, and going on to Worlds: St. Paul's Catholic School in Jacksonville Beach, Florida!" and the team ran wildly (myself included, I admit it) onto the stage, slapping outstretched hands all along the ways.  What a moment!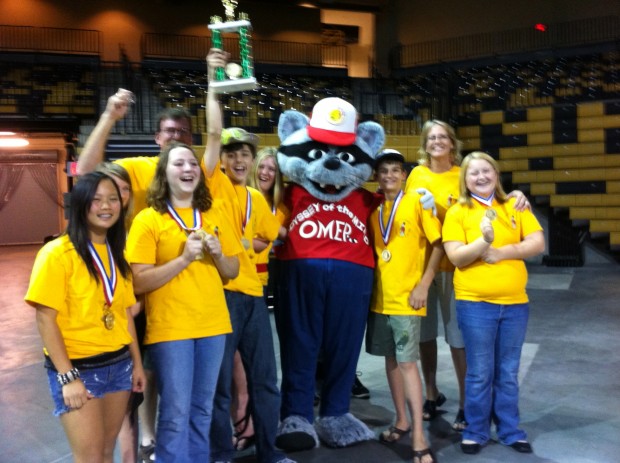 The kids claimed their trophy with unbridled joy – especially one of our boys, who'd been on various Odyssey teams over the past four years, and had joined ours, this year.  Pictures were taken, hugs all around, and we returned to our seats to let it all sink in.  We were the first team from the Manatee Region (four counties) to ever send a team to World Finals.  We were rock stars.
A coaches' meeting followed immediately after the awards ceremony and our blazing victory, where the reality of our win sank in.  The costs of going to Worlds was discussed.  A million other details were rolled out – and I felt awash in a sea of mixed feelings.  Certainly, exhilaration of the win was stunning, but the reality of cost, fundraising, logistics, and team unity, were also forefront in my mind.  We had a team member threaten to quit, twice prior, each time just before the important competition.  The reasons for quitting were essentially a lack of interest/commitment to the team and program on the part of the parents.  The coaches had made numerous concessions for this team member over the past several months.  I was weary of that part of the coaching job, which had drained me in particular.
We had a wonderful person at our school – the person who'd brought Odyssey of the Mind to our school several years ago, and had coached teams to the State level every time, but her team hadn't won Regionals this year, sadly.  Still, she and two of her young team members drove the two and a half hours from Jacksonville to Orlando to support us (and watch as many of the competitions as possible to prep, already, for next year's Odyssey of the Mind team!). When we won first place, she swooped in and worked her magic, organizing us around fundraising and in the end – after various car washes, hot dog lunches, bake sales, social mixer night for adults, and very generous contributions from our school's PTA, the Dads' Club, and the Knights of Columbus – we had enough money in the bank to make it happen.  Each of the kids' cost of staying in the dorm on campus was covered.  Also, the cost of the dorm coach was covered.  Guess who the dorm coach was?  Yes.  Me.
We still had the dramatic wait while the recalcitrant team member made up her mind about whether or not to join us for this once-in-a-lifetime opportunity.  (She decided to participate.)  We still had the usual resistance of that team member's parents. While everyone pitched in washing cars and supporting fundraisers, they participated peripherally.
All of this happened, too, with very few weeks between the State win, and the start of Worlds, with a spring break holiday from school thrown in to make our fundraising even more challenging. But it all came together so well.  We decided that since we were going to Worlds, we might as well embrace the entire cultural experience.  We requested a to be a buddy team which meant that our kids (and coaches) would sort of be like American hosts to a team coming from another country (yes, teams from about 14 other countries journeyed from as far away as Asia, Russia, and Africa).  We requested a homestay team which meant that families from our school community would host, in their homes, members of an international team who'd traveled to the U.S. for Worlds, to give that team a days-long, regular American experience.
Our buddy team was a South Korean group of kids who were the same age as our team, competing in a different problem category.  Our homestay team was a Japanese team – again, the same ages as the kids on our team, and also competing in a different problem category.  Great, because we could cheer each other on and not worry about them as The Competition!
It was truly amazing.  There were 800 teams from about fifteen countries in the competition.  In our problem category alone, we were one of 66 teams.  The whole campus was filled with students and coaches and parents.  We stayed on campus five nights and when we arrived I learned we'd been assigned to a non-airconditioned dorm, with community bathrooms down the hall.  Just like my freshman year of college – redux!  Except this time, I had a single.  My cell, as I called it, was stark and hot.  They all were.  Naturally, Maryland was experiencing its first,and early, heat-and-humidity wave of the summer.  HOT in the dorms.
But awesome too.  The kids had a blast in the dorm, where the hall was co-ed and mostly filled with South Korean kids.  South Korea sent 22 teams to Worlds this year.  Everywhere we went we heard Korean being spoken.  We found our buddy team and learned to communicate through smiles and simple words, for while they performed their skit entirely in English, their English skills in conversation were quite limited.  Odyssey hired a U of Maryland Korean American student to interpret for them and it was through her that we conversed with our new friends.  But it's amazing how much kids can learn to interact, nonverbally.  Playing Ninja became a favorite activity as games sprouted spontaneously everywhere: dorm lobbies, metro platforms, outside the ballpark.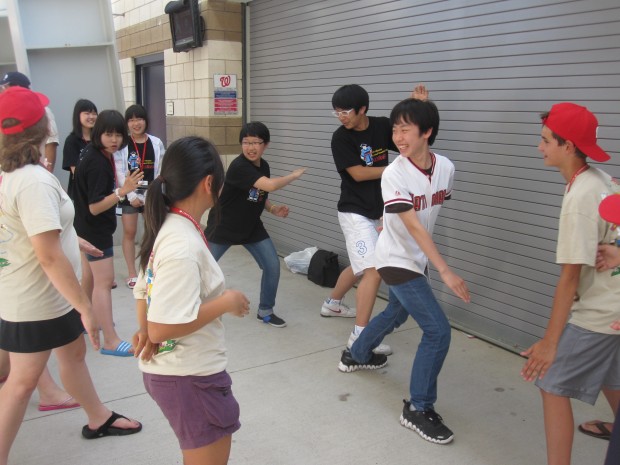 We competed and did not win or place.  This time, I felt we'd finish in the middle of the pack, somewhere in the 30s of 66 teams, so I was happy to see we were 25th of 66 teams!  After watching so many other teams compete, I could sense we wouldn't take top honors but that didn't matter so much now:  we were at World Finals of Odyssey of the Mind.  We were mixing with bright and creative kids from all over the world.  And five hot nights in a dorm was exactly where we needed to be; not off campus in a nice hotel, separate from the moments that made the entire Odyssey experience so singular for them.  The nights in the dorm, horsing around with themselves and new friends.  'Pin trading' – an strategic enterprise one can't quite explain until you've experienced it – was going on all times during down times.  Every team would bring their own team/state Odyssey pins, and then start hunting for cool pins from other teams.  All these pins are attached to a towel, and the kids would plop down and lay out their towels and negotiate with their peers for the pins they coveted.
This is indeed the longest post I've ever written, and I doubt that anyone will actually read it.  I'm writing it to tell you of the amazing journey I've been on during the past few weeks, and to explain my bloggy absence!  I suppose I could go on and on but I've bored you enough, so I'll try to wrap this up now.  I am writing this more for me, than anyone, I think.
We had a great time with our buddy team.  They showed up at our team's performance with cute signs, to cheer us on.  By sheer luck or providence, we happened to eat lunch after we competed in an off-campus little restaurant whose owners were Korean.  I told them about Odyssey, and our buddy team, and asked him to write 'good luck' to them, in Hangul, the Korean language.  He thought about it, asked exactly what we wanted to convey, as the translation of 'good luck' varies in Korean.  He settled on a 'do your best!' message, which was the exact right sentiment, and printed the characters onto our poster board with a pink Sharpie (we planned to write our sign to them during lunch, and so we conveniently had the materials with us!).  The kids then wrote the rest of their message to our buddy team in English, and signed their names.  It was a great sign!  The buddy team loved it.  I was glad we were able to impress, and not merely copy what they'd surprised us with earlier in the day.
We wanted to do something special with them, so on Monday, Memorial Day, we treated them to a major league baseball game.  We took them to see the Washington Nationals play the Philadelphia Phillies in Nationals Park in Washington, D.C.  It was awesome.  The boys and their coach (a male) loved it.  The girls, not so much, but they had fun and our seats were shaded the entire time, and for that I thanked God.  I couldn't imagine sitting in that HOT sun and heat for nine innings. It was a Phillies crowd, despite the home stadium, and we all cheered for Nationals, who lost 5-4 (it was a good game!).
As a team, we were all over the University campus for events, competition, and activities, and we managed to take the metro into D.C. twice, en masse.  Yes, I did indeed don my bright yellow group tee shirt emblazoned with our school name, noting we were Odyssey state champs / World finalists and troop around Washington with our yellow-shirted pack.  Perfect for spotting everyone in a hurry, and count off the number of people in the group so we wouldn't leave a kid inadvertently on the platform of the Metro or lose someone's child in the Smithsonian Air and Space Museum.   I'm not usually one to travel in large groups, but I did it, and survived!  Had a great time, in fact.  There were moments…but in any venture, there are always moments.  I'd consider doing the coaching gig again, now that I'm experienced, and really know how to put together a team.  I'd have the team choose its members wisely: choose minds over friends, because a commitment to do this is a long-term one.  If a team member loses interest and decides it's not so important anymore, it adds stress to the others.  The parents of the team members should also understand what their child is committing to doing.  I suppose I now have a greater understanding of a teacher's experience, and how important the parent interaction/involvement can be.  I just have to say: if you're a parent who's a complainer or overly defensive of your child, tread carefully with the teacher.  They want to work with you…with being the operative word.  Teachers and coaches are human beings with feelings and I think that there's probably a sort of line out there, different for all of us, that once crossed,  subtly changes things.  Perhaps it changes the way the teacher regards your child, and parents want what's best for their child.   It's good to pick one's battles wisely.
Now that our team has been to Worlds, there's been a lot of excited talk among the kids and everyone wants to join Odyssey.  I told my child, "You're celebrities of the moment.  Odyssey is very cool, and fun, and a hard working, long-term group experience.  They need to understand that. They need to want to win and to put in the extra time it inherently requires as competition time approaches."  Having seen the best of the best, I know what it takes to go the distance.  A new team forming with excitement at the beginning of a school year should truly understand Odyssey, and the creativity it affords kids, and understand that they do need to work to make it happen.  It helps if parents get it too, otherwise they inherently get sick of the long-term involvement and think nothing of leaving a team when months have already been invested in the effort.  It's a wonderful thing to be involved in; I met so many Odyssey alumni who came up in the program and some who are still competing at the college level.
But now,  school is out, and summer is here, thank goodness. We'll all have time to regroup and let our Worlds experience sink in, and fade away a bit, as the norms of summer livin' take over.  No one's more ready for this than I am.