Have you heard of Eagle Island?
I hadn't, not until I was invited by local public relations woman Leigh Cort of Leigh Cort Publicity in Ponte Vedra Beach to join her and five other journalists and bloggers on a media trip to spend three days and nights here.  Eagle Island is a back barrier private island off the coast of Georgia, north of St. Simon's Island.  Touted as a 'girls getaway' for us writers, I was thrilled to be among those invited.  My new friends are Linda Erbele, who writes for Georgia Crossings, Motel.com, her own website , and is also editor of Georgia Trend Daily; Tami Reed of Talking With Tami, Rolling Out, and Kontrol Magazine; K.K. Synder of Southwest Georgia Living; and Jan Schroder, the Managing Editor of Travelgirl Magazine and her blog, Girls on the Go; and Jeyme Colodne of Best Self Atlanta Magazine.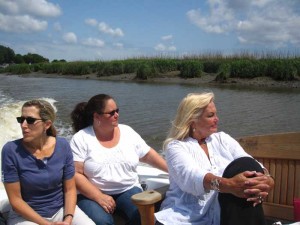 Eagle Island is privately owned by Andy Hill, who has several small islands here, and is only developed to the extend that it allows guests to fully experience the quiet of a small island, in its natural condition save for the most comfortable home,  nestled among the Georgia coast's barrier islands.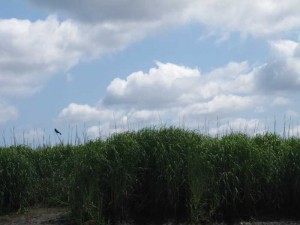 Today, we all met in Darien, Georgia and were transported by Captain Andy, who acts as guide and concierge, with all our necessities to this luxurious home that is built with respect for the environment.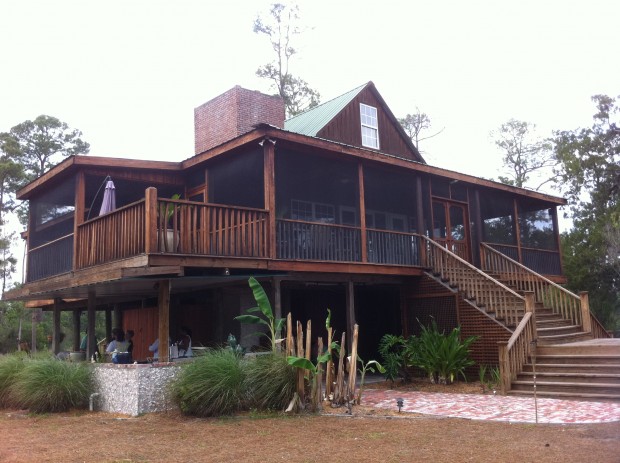 The home is outfitted with every amenity a guest could want, and the grounds are eco-groomed for walking pleasure.  Andy Hill has a deep love for nature, and serving his guests so they are comfortable, and free to explore the salt marshes, fish, go crabbing, kayaking, snoozing on the hammock or sleeping on the outdoor, hanging bed.  It's two stories, each with wraparound screened porches.  The outdoor kitchen, pond, and fire pit, with pine-needled paths inviting you to walk about and take in the scenery which is … dead quiet.  More about all of that, later.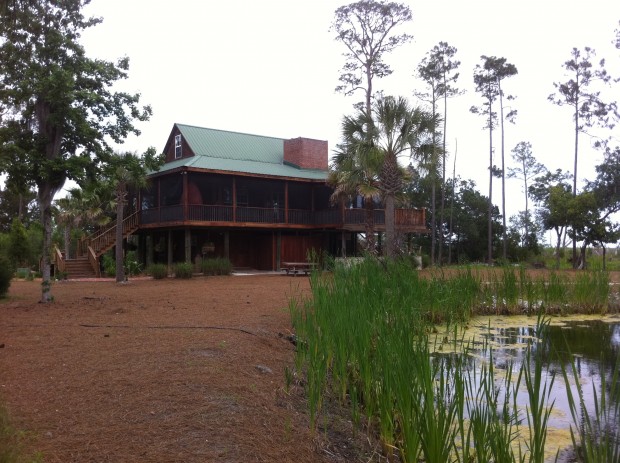 I'll leave you with that for now,  as my new friends are getting acquainted around the large kitchen table while I'm here, blogging.  Watch for updates on our adventures, and lots of photos.  This is a lovely location, just an hour and a half from Jacksonville, four hours from Atlanta, and is easily accessible via air service to Brunswick, Georgia.  Then, of course, a short boat ride to Eagle Island.  Think:  complete and utter privacy.
So long for now!