… is the best.
Living at the beach in Florida, an outdoor shower is a luxury/necessity for me. I love the beach but eschew beach sand in my home, so I've set up a pretty nice outdoor shower environment on our side deck. Last year we expanded it, too, because my husband knew how much I enjoyed showering under the stars even if I hadn't been to the beach. I love it.
My three-day retreat at Eagle Island was a sensual delight.  Now don't get all freaked out, y'all who don't really know what the word sensual means.  Eagle Island was a delight to my senses. Visually: gorgeous.  Accommodations: luxurious, comfortable. Cuisine: perfection (someone else cooked. We had Low Country Boil; oysters and shrimp; seafood pasta and pecan crusted chicken breast. All I had to do was sit and dine). Mood: relaxed, and friendships formed.  Experiences: both active and languid.  Sunshine. Water. Trees. Sand. Shells. All the things that excite me.
With all the indoor/outdoor amenities, of course the lodge home would have an outdoor shower, which I rhapsodized over in a previous post.  I took 50% of my showers in that shower.  Awesome.
It was like a screened in cabin, and tucked under the expansive stairway leading from the ground level to the upper living area.  One could wander past and not even notice it.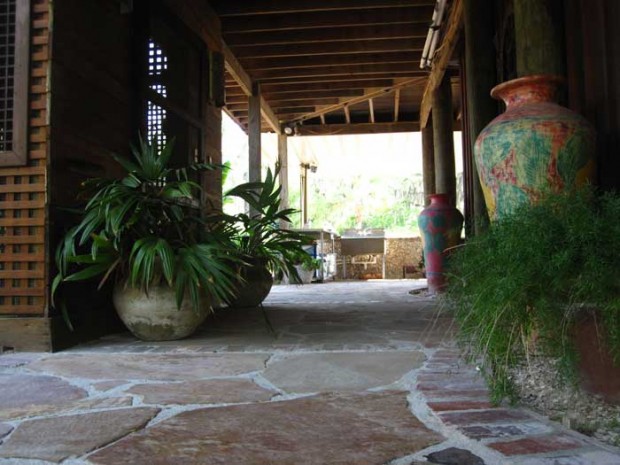 It has a screened-porchlike door with a latch hook to lock it from the inside – not that anyone would barge in on you.  The interior was very roomy and two generous shower heads were set parallel, overtop, and a fieldstone floor.  I was utterly captivated.  Showering there, particularly in the dark of night, was one of my favorite things to do.
That fantastic outdoor shower: day and night, below.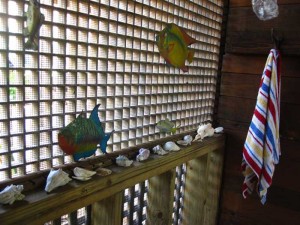 It was charmingly decorated in found object style, and I plan to steal a few ideas to decorate my own outside shower.  Shells, and more shells!There's really no excuse to miss the outdoor shower experience when you go to Eagle Island.  Every guest is given her own cozy robe to use during her stay, so there's no worry of dashing from shower to room with but a towel wrapped around you.  Your thick towels stay nice and dry on the hooks inside.  There's even specially made Eagle Island  liquid soap, shampoo, and conditioner on hand (as there is in each of the lodge home's bathrooms) for guests; nothing is overlooked.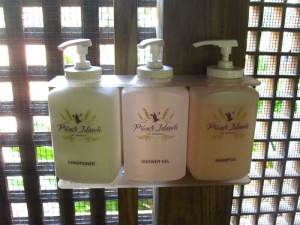 Take it from me, the outdoor showering aficionado: this was a killer shower set-up. I loved ever minute under the rainwater shower head, patting myself dry with a clean, thick towel, and letting the moisturizer sink into my skin while the cool spring breeze dried me off.  A refreshing and sensual way to start or end a day.  It was a girls' getaway weekend so my shower was Just for Jeannie.  But if it's a romantic getaway you have in mind for Eagle Island, this outdoor shower is definitely designed to accommodate two.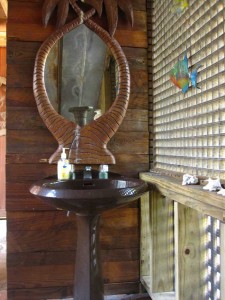 There is even a sink and mirror for your convenience!  Clearly, I'm enchanted, and wish I had a setup like this at my house.  While my own is much more basic, it's still pretty great to be able to shower under the stars whenever I feel like it.
And there you have it.  Your tour of Eagle Island's outdoor shower.  If you're a guest here and don't take advantage of this, you're missing out.  Don't let that happen!