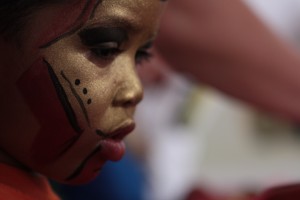 After a few months' hiatus, the Riverside Arts Market is back. The farmer's market carried on without interruption; the Arts Market debuted its 2011 season on March 5 under the Fuller Warren Bridge, with a great view of downtown Jacksonville, on the St. John's River.
It was great.  I watched people watching art and was on an inspiration mission.  The street is inspiring.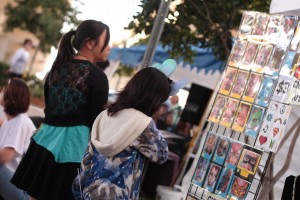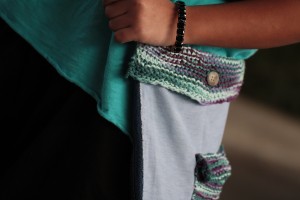 This girl wandered from textile booth to textile booth, sporting a handmade bag of her own.
I stopped at every photographer's booth to see how my work  holds up to theirs.  It was fun to see that yes, if I wanted, I think I could have an exhibition too.  While I'm not at the top of my game yet  ( neither are many of them), who cares?  Aren't we always striving? It was fun to talk shop with a few photographers there.
There was the requisite street performer, whose  act I've witnessed before.   This man gets himself tied into a straightjacket and wound up with chains by random audience members. Then he's hauled to the top of a pole, upside down, and sets a time limit for himself to break free, adding to the suspense of his performance.  He's got the crowd-banter down pat.  I've watched him do this three times.  He always gets out, of course, and the crowd loves it.   He always says something like, "This is what happens when a guy loses his job at Goldman Sachs," meaning, now he earns tip money from doing his act at RAM.  I'm a sucker for the backstory; next time I'm going to ask him. I also wonder what he does make in tips, too.  What do you think?  Too personal a question?
This enthralled child watches him as he's tied, chained,  and strung up, seemingly helpless.  But this dude is anything but helpless.  He manages by sheer force of core strength and practiced skill, to wriggle his way free.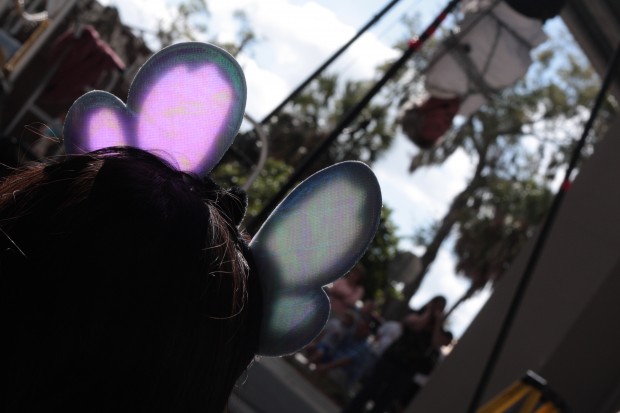 Then there was the food.  Arts market fare ranges from meat-on-a-stick, which had the longest line, to the juiciest turkey burger I've ever tasted.  Ever.  I guess you know what I ate; this is what I photographed: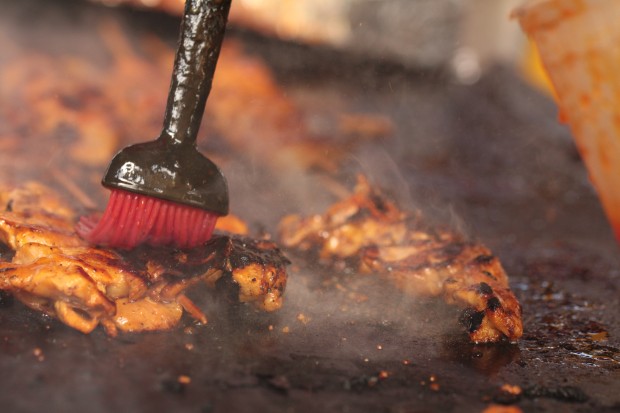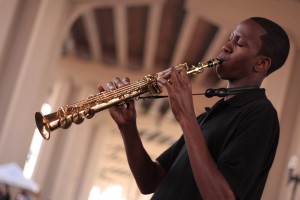 This musician stood alone and played beautifully.  I took several pictures of him.  I grabbed a card from the table nearby, thinking it was his, and that I'd email the photos to him.  Regrettably it wasn't;  now he'll never see them.   All these performers really make the ambiance; without them, the outdoor art and farmer's market just wouldn't be complete.
Then there were the people with the large snakes.  Curling around the neck of this girl, who quite loved her pet.  She encouraged everyone to approach him, and touch him, which freaked out some of the kids but I figured if she let the thing wind itself around her body, touching him would be no problem.  I realize this seems absurd to snake lovers, but I don't know snakes.  They are enigmas to me. I'm not fond of  long limbless reptile that have no eyelids, a short tail, and jaws that are  capable of considerable extension.  Still, this snake seemed friendly enough and its handler, a serene young woman.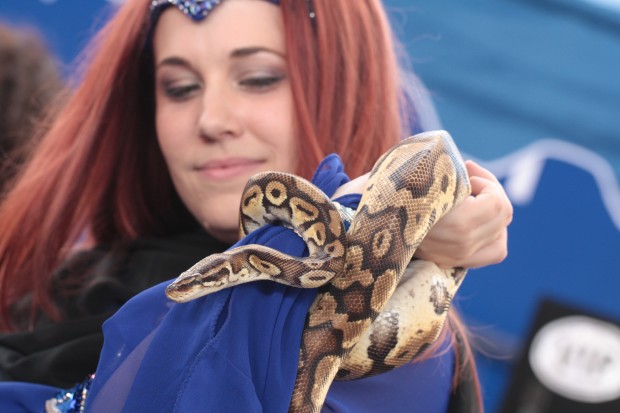 I touched him.  Many of the kids were tentative but intrigued.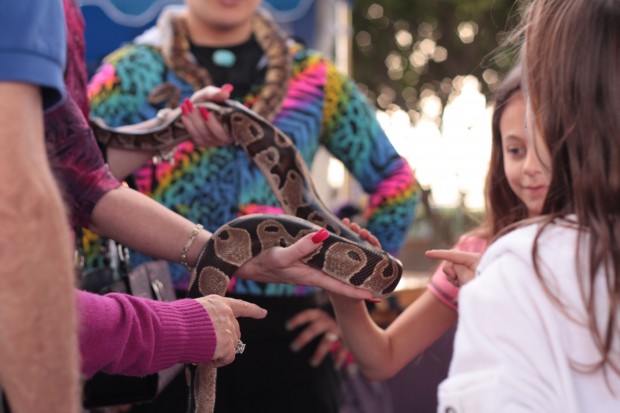 The snake's body was warm and smooth.  His skin was beautiful.  The next morning in church,  I saw a woman wearing shoes that could have been made from this snake's twin brother!   Yikes.  Snakeskin shoes. That gave me a start.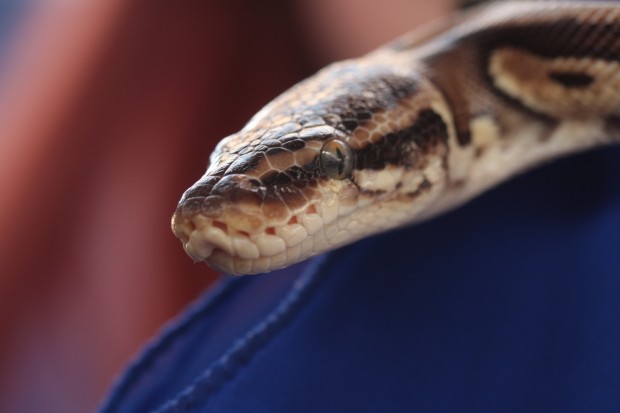 The Riverside Arts Market is really great for people of all ages.  Whether your interest is produce or art; oddities or music,  wandering about under the bridge with the local community in a weekly gathering of artists and farmers and performers is something special.  It's just right: neither too small, nor overwhelming in size.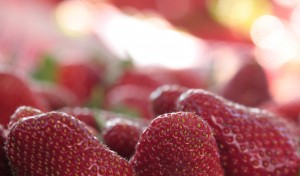 It's all about the community-minded people, their creativity, their local farm-to-you produce, and fun.
One of my very favorite parts of the Riverside Arts Market is the Imagination Squared art project.  The link will take you to its Facebook Page but basically, here's the deal:  for $36 you get two wooden squares and the chance to have your artwork displayed (and maybe, sold!) at RAM.  The squares are the canvas for your imagination and creativity. Get your artist on and go for it.  I've seen many squares on display and the coolest part is that anyone can get involved.  Some of the square are obviously made by seasoned artists, others by those with a love for art.  Either way, your work will get four weeks on display and whether it sells or not (heck, maybe you'll just create one for yourself and another to give as a gift…), isn't so much the point of the project. It's the community involvement, and giving a platform for the artist in everyone a chance to be showcased.
Don't even ask me why I didn't take a few pics of  my favorite display!  I'm captivated by the concept and inspired to try something myself. It might come out looking like kindergarten artwork but who knows?  I feel a collage brewing…
See? Even the beachlifer loves life on the street.  I definitely give the Riverside Arts Market a 'must do' on your list of activities close to home.  Diversity is the catalyst to inspiration. Get out and come explore next weekend – at RAM.