A year ago we repainted our house. We are close to the ocean so the house takes a salty beating. We survived ten years with a slapdash paint job done under the wire of a closing date, the cost split between buyer ( us ) and seller ( them ). The painter sprayed on a coat and called it good. It was fine. I chose the color and was happy with it. But ten years wears on wood and and color; it's doubtful that any previous owners had had to deal with serious wood rot, so we gulped, got out the checkbook, and took it on.
The neighborhood is built of similar style homes but none are the same. Many are a sort of California contemporary architectural style. Every house is different, and the lots are an extension of Hanna Park, our land neighbor to the north. Lots of trees, live oaks and palms and bays; the tree canopy prized by Atlantic Beach and most of the people who live here. We used to have a real tree fanatic who rented the home across the street. When a neighbor had in the tree service to do some pruning and maybe took down a dead tree, I remember her literally blasting from her house, screeching at the homeowner that he wasn't to remove any of those trees. She was always a bit eccentric. It's ironic, and a little sad, that the new owner of that home just this week had every one of those trees taken off her property, making her house resemble an unfortunate tract home. I know that one or two needed to come down (they were dead) but to denude the landscape seemed harsh.  That house needed its trees to dress it up a bit.  I might not be a tree-hugger in the true sense of the word, but I'm definitely a lover of nature and trees and unspoiled beauty… and now?  Well, that plain house stands there, all by its lonesome.  Yes, I love our trees.
Back to my story.  So, the only fun part of this spendy but necessary home repair was going to be the color change of our home. I spent months looking at color on others' homes. I yearned for a dramatic change, yet it had to be congruent with the style of the home and our surroundings. I wanted detail and contrast and a modern look overall. I found one home in our vicinity whose color scheme I admired. After weeks of driving past the house I finally went to the door and talked with the owners about it. My children were appalled that I had the audacity to make such an inquiry. Gee, I'd have been flattered to have someone stop to compliment my home, and they were. They told me their story of how they finally decided on the color combinations I so admired and gave me the name and number of the woman who helped them choose it. She does it for a living and is paid handsomely for her services. Choosing color is really the key to an overall good or 'meh' look so I had no problem hiring her. I'd had similar help with the color palette on the interior of my last two homes and it was money well spent.
She came over and I liked her instantly. We drove around the neighborhood so she could get a feel for it, and I pointed out homes whose colors I both liked, and detested. There was one home that was painted a sort of yellow/gold and I liked it. My husband didn't, but I really did. It captured the 'dramatic' element I wanted of the change, yet when I took her past that home, her reaction was as negative as my husband's was. I felt disappointed because I was sure that this house looked good. When she nixed it, I took the idea off the table and we went in a different direction.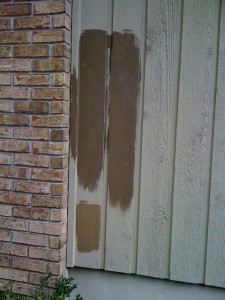 She advised a darker color than we'd had and held up large swatches to illustrate. It played nicely off the brick and the roof. My husband liked it. I got paint sample of it, and another, lighter shade.
Both were nice, but I felt the darker would be the more dramatic of the two. Since this paint job was costing a fortune and it had to last several years, I wanted something different. We chose the green I longed for as the accent color on our doors, and in the railings of the deck. The deck floor we actually painted a certain, custom hue of black. That was the one point where I dithered over the color after it'd been rolled on: it wasn't enough of a contrast from the brown of the house. See, once the house was painted, the color appeared rather…plain, rather…brown. It lacked the punch I'd been yearning for. The whole 'deck accent' now REALLY had to work; there had to be contrast there, and it wasn't until the deck floor was painted black that the house came together for me: brown house, green doors and deck railings (visible on only one elevation of the house), and the black deck floor. That part I liked. That side of the house did have the punch I wanted.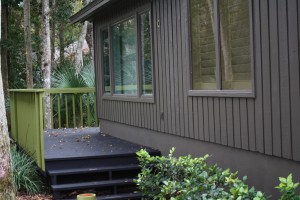 But the overall look of the house? It didn't. It just…didn't. I didn't love it.
Can I tell you how disappointed I am by the outcome? It's not that I didn't like it, exactly, because I did. I can't put my finger on it…but it missed my mark. It just did. I do love the black and green deck and I agree that the color of the house blends nicely with the roof, the brick accent and the neighborhood. But I wanted the house to sing, and it doesn't sing. The colorist recommended orange/red accent colors in accessories for that *punch* of color. When I painted a large terra cotta pot in the color she advised, I hated it, and changed it to a lovely orange that I do like, but now I'm thinking I just ought to paint all the accent pieces in the green I love so much. Green and black have saved the house, to me. Our Adirondack chairs are black and they just meld into the background so that they really aren't discernible from the street, which is fine. But perhaps using that green on the chairs would liven things up a bit.
We had workers at the house for several weeks, making repairs, fixing the wood rot, enlarging a side deck and creating a nicer outdoor shower enclosure, and finally, painting. And in a year's time, only one single person has commented on the house. (She said she liked it a lot, and I believe her, as it was unsolicited;  initiated by her when I ran into her at Publix.) But not another word from anyone! I shared carpool duties with two other families: not a word. Nothing. The neighbors were mum on the topic. But more than that, I am underwhelmed. Disappointed that my one chance to create something really pleasing to me fell short of my dream.  The train has left the station and with it, my only opportunity for an eye-catching house.  I don't care what other people think…heck, I liked (and still do) that yellow/gold house one street over and partially regret not throwing caution to the wind and going with my first instinct.  But then I'd have been copying them and that's not cool, either.
I guess I could have written this post in an entirely different voice, using far fewer words, and increasing the chances that anyone, including my husband, would even read it.  It would go like this:
Last year I painted my house after many years of dreaming about it.  I searched for an inspiration color, and found it.  I found a color consultant I hired to help me choose the colors.  I was dissuaded from my gut instinct by the husband and the color consultant and now have a house in a color I don't love.  I have to live with this choice for a very long time.  I like two things about the colors of my house: the accent colors, which can really only be used sparingly due to the architecture of the home.  So I will find accessories to paint to create the color contrast and *punch* I was longing for from this project. Color me disappointed and lesson learned (again.  Why so many lessons learned, I wonder?): I know what looks good.  Collaborate with others but don't be so quick to toss away your instincts even if the odds are against you.
I went with 'safe' because it was a big investment.  It's okay.  I still love my house, even if no one else does.  Frankly, aside from the yellow/gold house, and my Beach Avenue inspiration house, there isn't a single house around here whose color choices I admire.  So perhaps my friends and neighbors muteness on the subject speaks more to their lack of taste than it does to mine.  Hmm?
(The fact that I don't have a single photo of my home exterior in its entirety is telling.  But rest assured, I do love my home overall, for a variety of reasons and design styles.  It's not beachy; it's eclectic.  In a good way.)