What's better about this beach town  is that we have beach accesses that everyone can share. In Atlantic Beach,  at every block from 1st Street to 20th, there's a public beach access. There you can cross over to the most beautiful beach on the eastern seaboard. It's possible I'm biased, but it's awfully nice, we all agree.   Ours is a residential beachfront. A neighborhood beach.  Locally loved, but visitors are welcomed.
Not all the beach accesses have public parking. But you can find a dozen to fifteen public parking spaces at 18th St. and 19th Sts.; at random other accesses,  you can find a spot or two to park in.  Many are also designated for handicapped parking.  These spots are all tucked in so nicely to the surrounding area that  any parking sort of melds into the landscaping along the walk to the beach.  At about 16th Street, there's a little shaded cove that allows for six or so cars to park.  You'll have to be on the lookout for that one.  Up at 20th St. there is parallel street parking on Beach Ave., just south of 20th, for about three cars.  You have to know where to look but you can certainly get onto our beaches at every block. The accesses are publicly marked.
It's okay to park on the street a block or two away, and walk to the beach too. Just don't park on someone's lawn or block their driveway. That would be rude.
See, we're friendlier here, I think, than some of our neighbors further south. People here ride bikes, push jogging strollers, whoosh past on scooters or skateboards; sometimes with a surfboard tucked under their arm.
Yesterday I was having my hair cut  and the stylist asked which beach club I belonged to. See, if you live  in that town, and if you don't live oceanfront (I'm not married to a golf pro or Jacksonville Jaguar; and I'm only the CEO of Atlantic Beachlife, LLC), you practically have to join one of the beach clubs to get beach access.  Unless you want to go the the public beach, which is nice, but… why hassle with all that?  Sure the beach clubs are lovely, but I when I moved to Florida I was set on living in a real town; a place that had history and a town center, and the opportunity to walk to the beach from our own house.  I didn't want to get into the car and drive to the beach.
So we settled for here, instead of there.  Here is Atlantic Beach.  My like-minded neighbors are Neptune Beach, and Jacksonville Beach.
Many of the beach accesses in Atlantic Beach have been personalized by the neighbors who live nearby.  Some have lobbied the city for some basic rinsing showers: nice!
This is the 19th Street beach access in Atlantic Beach. Here, you can park your car on the street.  Here, you can lock up your bike, and rinse off when the day is done, which saves you from bringing all that sand straight into your car.  Atlantic beachlifers, we're thoughtful like that.
At the 19th Street beach access, you can just pause for a few, and look out over the water, without even having to walk down the path to the beach. I've done it myself a few times, passing by on my bike.  I'm thinking how nice this bench is for older people, or anyone who can't make the walk down the path to the beach and back again, but who crave the salt air, the sea breeze, and euphoric feeling that being here evokes in so many of us who love it.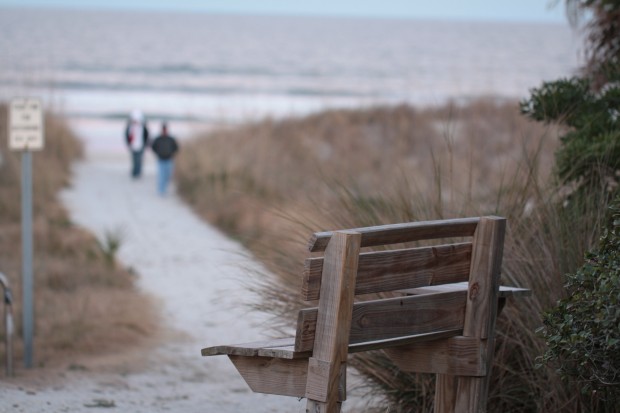 Be a fine way to spend few minutes on a winter afternoon,  here on this bench, don't you think?