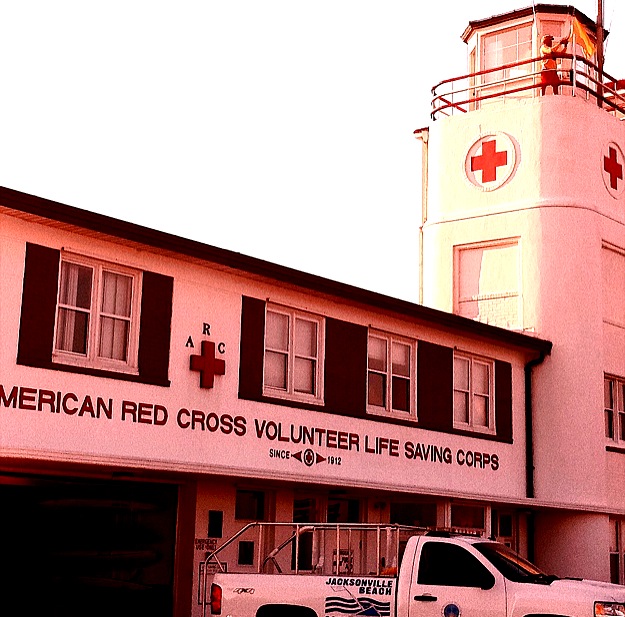 It sits facing the water where Beach Boulevard meets the Atlantic Ocean. The iconic whitewashed building with its bright, true red Red Cross lettering has been there, in its current iteration, more or less since 1947. The Life Saving Corps are made up of paid staff, and volunteers who give their time to keep people in the water safe.
I had about a half hour to kill late this afternoon, and as always, I was drawn to the coast. I had only iPhone with me to document the moment. Pictures seem to either evoke a story, or enhance it; and  what beaches resident doesn't love this building?  Even if all you've ever done is drive or walk past, there is something classic and reassuring about this station.  Surely it's been photographed or painted thousands of times over its history, which is ninety-eight years old.  Yep.  In 2012, the American Red Cross Life Saving Corps will have been in existence here at the beach for one hundred years.
When I ambled around the front of the building this afternoon, the telephone camera pointed this way and that, an affable lieutenant offered me a tour.  Young and friendly, we chatted about the place, the paid and volunteer staff, and the last ocean rescue he personally was involved with (three years ago).  The orange-red lifeguard chairs were pulled from the beach; as it was after five o'clock they were readying to shut down for the day.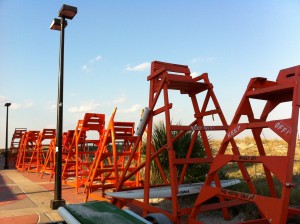 It was another gorgeous autumn afternoon, during the golden hour, when the dropping daylight sun made everything soft and golden, the sky so blue and the water so gentle.  Today might have been a 'green flag' day, though he said they rarely post the green (implying a 'safety' that one should never take for granted, this being the ocean and all).  Gentle waves broke at the shoreline.
I peered up at the guy in the watchtower.  He really was using binoculars to scan the water as far as he could see, for anything amiss.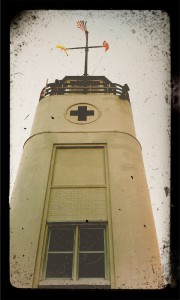 I watched families use the complimentary hose to rid themselves as much as possible of the inevitable beach sand, before getting into their cars and go home. The station pulls out the hose, and a shallow plastic bucket so that people can rinse themselves, their feet, and shake the beach sand from their towels. It's all very informal and backyard-like.  I liked that.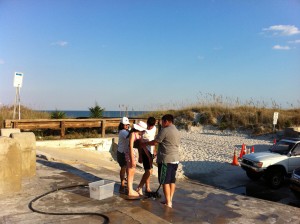 I saw two wide-tired wheelchairs, for beachlifers who need their wheelchairs on the beach.  Most disabled people in wheelchairs find it very difficult if not impossible to navigate the soft sand so the Red Cross offers a trade: your chair for theirs.  Just bring it back when you're finished, take your chair (don't forget to rinse off!) and be on your way.  So file that one away in case you or a friend who isn't able-bodied longs for the beach.  Park somewhere near the American Red Cross Station, and chances are, you'll be set (but if it was me, I'd call ahead).  I saw two such chairs.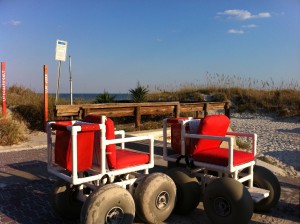 Naturally they offer tours of the station which I declined because I didn't have the time or my camera.  But I enjoyed chatting with the guy in charge and plan to come back soon for a real tour of this iconic station.