Tomorrow some of the neighborhood beachlifers are taking a day trip to Ichetucknee River.

Sounds like a real southern thang, doesn't it?
It's a float down the Ichetucknee River on rafts or tubes – your choice.  It's a real, spring fed, lazy river rife with fauna and mangroves and your float can take anywhere from one and a half hours, to half a day, depending on where you put in.  It will take us about two hours to drive there; it's located in North Central Florida.
Afterward it's always fun to drive around to the head spring, a very chilly, clear large pond that's fun to swim in.  Those of us who can handle cold water, that is.  Those of us who are (wo)man enough for it.  We're bringing our snorkel gear.  It's no coral reef, to be sure, but there are plenty of fish darting about to look at.  I'll take my snorkeling where I can get it, this summer.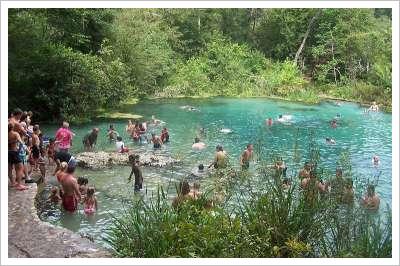 (this is the head spring-fun!)
The cold head spring's got nothing on Lake Michigan, though.  I grew up swimming her cold waters in the summer, a treat I'm looking forward to later this summer.  I love swimming in the ocean but I do prefer a freshwater lake with a nice sandy bottom and no scary creatures lurking beneath the surface…
Whenever I've been there, the head spring has never been as crowded as is shown in the picture.  But it sure feels cold; it maintains a constant temperature of 72 degrees year round.
I'll be back on Wednesday with a report on this week's
daycation
.  The real reason I'm writing so late is to leave you with this delectable picture of the treats we'll we sharing with our friends:  luscious Red Velvet Cupcakes with Cream Cheese frosting, created from scratch by my very own pastry chef, Lily, age 11.
I found a good recipe online and printed it for her.  I watched her whip these up from behind my laptop.  I tested
only one
cupcake but I could have devoured them all.  Then, I photographed them.